What Our Clients Say

Great entertainment for parties of all ages! – Lisa S.

Purchase Equipment
Casino Parties LLC's exclusive "Roulette Display Software":
We are proud to offer the most exclusive and easy to set up Roulette Display Software for your Roulette Display. The software is easy to install, use and do not require the any technical help or service.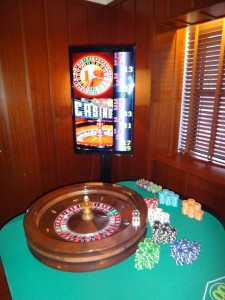 The main Features of our Roulette Display Software are:
1. The Roulette display software will function on any standard 16:9 wide screen monitor to display the numbers that have rolled on the roulette game.
2. It will display the rolled numbers on the right hand side of the screen as shown in the image; an image of a roulette wheel in the first section of the screen followed by the space to display your customizable banner and at the bottom will have the space to display Image slide show.
3. The dealer will manually type the number rolled, on their own using a keyboard (a computer system needs to be attached to the screen and the dealer will update the rolled numbers manually)
4. A photo slide show will run at the bottom of the screen (The location of the gallery/Image folder could be browsed through from the attached system)
5. The program will also have the ability to change an incorrect number of what is currently displayed. So the user will be able to change the last number rolled.
Ask for a trial now by giving us a call at 888-340-1873 or drop in a line at sales@casinopartiesllc.com.

Create Your Own Casino Party